Leased Ad Space
simple, fast, effective traffic
JOIN NOW
$9.97 will get you
A Recurring Solo Ad
Commissions paid since launch
over $271,348
100% Commissions!
Published by Keith Dyer — 1-23-2019 at 10:07 PM UTC
---
Just another one of the many reasons SFI is the best online business opportunity!
Right now, SFI is paying 100% commissions on purchases from anyone on your team for the first 30 days of their membership. No, it's not a typo. Have you ever heard of such a thing? 100% commissions! WOW!!
Here's how it works...
Every item for sale within SFI's Zing Network is assigned a Commission Volume (CV). That's the amount of the sale that commissions can be paid on. The normal commission paid would be 20% of the CV.
But now you can get 100% CV in commissions on purchases within the first 30 days of anyone joining SFI under you! That's FIVE TIMES the normal commission payable! I know, right!
This is a great incentive for any SFI affiliate who is working to grow a profitable business by building a team of active affiliates. It's also a great incentive for anyone who wants to get started in SFI, especially if you already have people you know that you can bring into the business with you.
So, here's a practical example...
You join SFI. You bring in 5 people over a two month period (could be one, or three, it's just an example). Each of those 5 purchase a "Builder Bundle" within their first 30 days for $55 per month. This is a smart choice because it will help grow their own business. The CV on that purchase is $20 which means, your Direct Commission is $20 for each sale. Boom! You just made $100!!
Now, in their second month your commissions are back to normal. But think of it… if each of those five DUPLICATE your actions (and why wouldn't they if they see the big picture) they are going to make money just like you! And, in additional to Direct Commissions on those five, you'll get a Team Override (TO) on them and everyone they bring in under them. Not to mention the many other ways you can earn in SFI. Plus, you don't have to stop at five!

Get started with your own Builder Bundle...
A "Builder Bundle" purchase advances you to the rank of Executive Affiliate immediately, gives you 100 TCredits to spend, and puts 8 new signups on your team each month. These signups come from SFI's global advertising coop. In addition, you'll get 7 new co-sponsored affiliates (CSA) each month. CSA's are affiliates you did not personally sponsor, but on whose purchases you will earn commissions as well. Many SFI affiliates earn a substantial income just from CSA's! And one last thing... you get 350 Rewardical Tokens! Rewardicals are earned in a variety of ways by just participating in SFI, and can be redeemed for cash, silver bullion, bitcoin, and other cool stuff.
Well, I wanted to share this because it's such a fantastic opportunity to get into profit with your own business right away. What could be easier?
Join for free
Invest in your business with $55 (or less if you need to)
Use the TCredits (Zing Network currency) you purchased to play games and bid on auctions.
Earn Rewardicals (digital tokens) with your participation that can be redeemed for cash and more.
Have fun
Share your joy and keep building your team.
Earn a large income over time!
If you're not yet a member of SFI, you can join for free RIGHT HERE…
If you need more information you can go to THIS PAGE to get more details and learn about the bonuses I'm ready to give you when you join me in this awesome opportunity!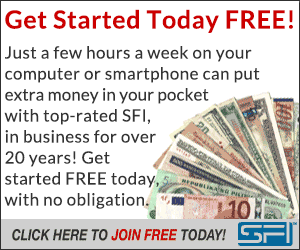 ---
About Keith Dyer
I retired from the U.S. Postal Service in 2015 and I've been marketing online for over 3 years now. I like the idea that my home business income(s) can exceed my retirement income. So, I'm working to reach that goal. Please check out my business opportunity links in the lower left corner of this page!