Leased Ad Space
simple, fast, effective traffic
JOIN NOW
$9.97 will get you
A Recurring Solo Ad
Commissions paid since launch
over $271,348
Traffic Strategies Follow up
Published by David Gardner — 3-23-2020 at 11:04 PM UTC
---
TGIM
That can stand for Thank Goodnes I'm Marketing (though to be honest I am pretty thankful to be a union employee with a contract that allows us to keep getting paid even during a shut down...and actually I am still working remotely as a Teacher providing training and assignments through digital mediums)
Anyway...Back to the point of this message.
It's all about traffic today and in reality that is what it is about everyday.
So many business right now are being crushed by the quarantine and forced shut downs of their businesses and thus their traffic has come to an amazing halt!
Here is a recap of some strategies to help start to grow your business or even your own online presence starting today!
1) https://thedavidgardner.com/traffic-co-ops-traffic-secrets/
I posted this one yesterday on Traffic Co-ops to reduce traffic costs and even get free clicks
2) https://thedavidgardner.com/growing-your-business-in-a-time-of-quarantine/
This post shares 10 strategies that any business can use right now in a downtime
3) https://thedavidgardner.com/ping-your-blog-traffic-secret/
If you create content on a blog, then by all means you need to share it around and this gets it started!
4) https://thedavidgardner.com/traffic-secrets-bonus-st-patrick-day-launch-methods/
This post I did last Tuesday and had some fun with my Lephrechaun beard...though as you could tell it tickled me now and again throughout the hour long training.
All of these tie into ideas I have learned and implemented as an online marketer since starting back in 2009...Now I had also done some ebay and craigslist stuff before then but my first go in online courses and training was around March 2009, so I am 11 years in.
As a teacher, coach and leader online I want to continue to share what I have learned so that you may benefit as well and one of the people I have learned the most from over the years is Russel Brunson and I am having a huge bonus giveaway when you grab his book through my link (I will get a $1 commission for this, but It's a commissions regardless, when you getting his Hardcover book for just the cost of the shipping at $9.95...it is actually for sale on Amazon for $24.95 and will ultimately get a higher commission if you take some of the upsells)
Russell is sharing his Traffic Secrets which have helped him sell millions of dollars worth of products online and are things that any business owner can use to integrate into their own businesses. Online and offline.
5) https://thedavidgardner.com/russell-brunson-traffic-secret-bonuses/
This is where I talk about the bonuses I have for you.
Hell...even if you have purchased the book already, grab yourself a SECOND copy through my link to also gain access to my bonuses as well as be able to have a second book to share with your partner or use as a giveaway for your future sales or promotions.
Again it's just $9.95 for the book and you will gain some amazing bonuses from me that you have to see for yourself!
Let's do this!
Dave Gardner
PS Here is Russell Brunson and myself back in Kenya in 2012 when I was a guest of his for winning his Dot Com Secrets X Course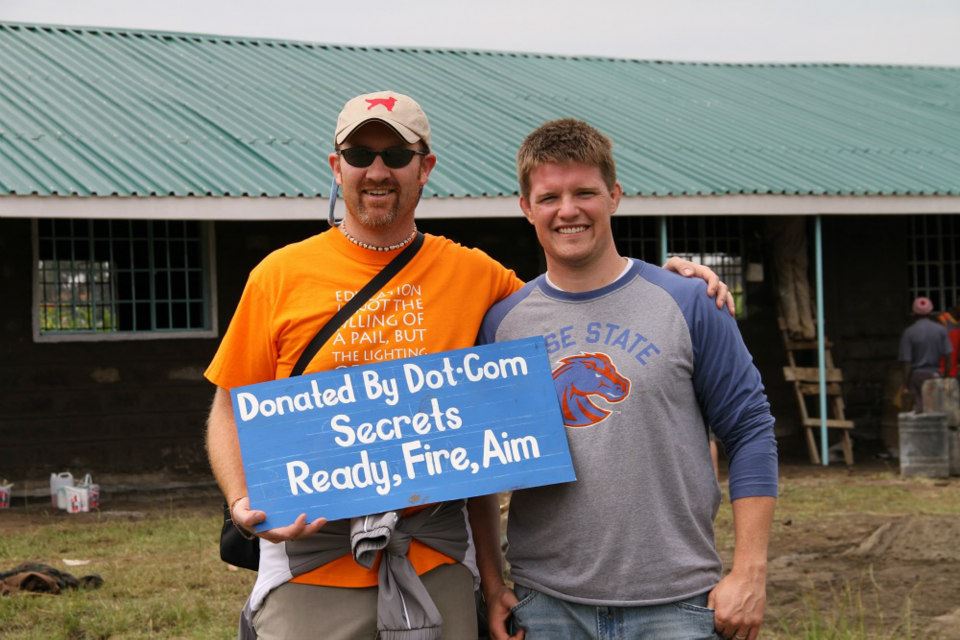 ---
About David Gardner
Teacher/coach/Entrepreneur building his business in the health/fitness and marketing niches. Dave is a single dad of 3 kids, a returned Peace Corps Volunteer, science teacher and a leader in internet marketing. He has been published in a few books in the marketing and lacrosse niches.