Leased Ad Space
simple, fast, effective traffic
JOIN NOW
$9.97 will get you
A Recurring Solo Ad
Commissions paid since launch
over $271,348
Online Business Quotes And Tips
Published by Niranjan Ranade — 1-26-2017 at 10:10 AM UTC
---

Content ==> Traffic ==> Presell ==> Monetization
Money is the BEST Employee You Will Ever Have.
People Are Looking To Buy But They Dont Want To Be Sold.
We can either Wonder/Fear/Dream/Wish/Desire/Hope/Pray/Wait/Delay OR Learn/Think/Invest/Do :)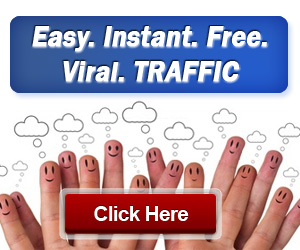 Sell Stuff To People Who ARE ALREADY BUYING Same/Similar Stuff Online.
Donot Try To Convince People To Buy. Target People Who Already ARE BUYING What You Are Selling.
Customers Buy With Emotion And Justify With Logic :)
==> Click Here For Online Business Training <==
People => Problems => Profits

Productivity => Profitability => Scalability
Mainly 3 Types Of People Try To Make Money Online. Dreamers / Quiters / Doers.
Which One Of These Are You ?
The Goal Is To Continously Build And Monetize Assets To Grow Online Income.
Online Business Is About Online Money And This Comes From Monetizing Online Assets.
Example: Membership Sites, Blogs, Email Lists and Viral Content like PPT, PDF, Articles, Videos etc.
Our Money Is Just A Number And This Number Depends On The Commerical/Perceived Value That We Add To The Marketplace Directly/Indirectly!
=> Identify A Profitable Niche With Buy Low/Sell High, Sustainable Business Model
=> Work / Hire & Optimize (Cut Losses, Let Profits Ride)
=> Deliver Value With USP (Unique Selling Point)
=> Build & Grow Loyal "Repeat Customer" Base
=> Sell For Profit :)
People Succeed When They:
1. Stop feeling sorry for themselves.
2. Want to PROVE something to someone.
3. Refuse to Giveup.
Treat It Like A Hobby & It Pays You (?) Like A Hobby,
Treat It Like A Business & It Pays You Like A Business.
The Dream Of Online Income Lifestyle With More Time & Freedom Sells Really Well On The Internet, The Only Thing That Matters Is - Are You Buying It OR Selling It ?
Millionaires On An Average Have 7 Different Income Streams. How Many Do You Have ? $2740 Daily Profit = 1 Million Per Year.
>>>> Money Loves Speed >>>>
Poor Get Poorer (Inflation & Lack Of Planning) & Rich Get Richer (Power Of Investing & Compounding)
CashFlow Quadrant Explains 4 Types Of Income
(Employee, Self Employeed, Business Owner & Investor)
5% Population Owns 95% Income (These Are Business Owners & Investors)
95% Population Owns 5% Income (They Have A Job OR Own A Job)
Donot Work For Money (Other People),
Make Money (Other People) Work For You!
All Businesses Have To Keep Adapting To Ongoing Changes In Market Trends & Customer Requirements!
Cash-flow management & sustainable business growth, both are very important.
World Is Full Of Smart Poor People.
Having a high-converting Big Ticket Sales Funnel IS the key to profitable marketing campaigns (Sell Free & small ticket items on frontend and big ticket items on backend)
Rich People DONOT work.
Working Hard Doesnot Make YOU Rich.
Other People's Hard Work Makes YOU Rich!
Fortune Is In The Followup (That's the reason Email Marketing is SO Effective)
Approx 60% People Never Buy, Even If Marketing, Price & Product ALL Are Perfect :)
A Customer Has To See The Ad About 7 Times Before She/He Makes The Purchase!
People Buy From People Whom They Know/Like/Trust (That's the reason Video Marketing is SO Effective)
AIDA => Attention -> Interest -> Desire -> Action
Effective Sales Letter Formulas:
Pain -> Agitate -> Solution -> Call to Action OR Problem -> Agitate -> Solve
Buyers Dont Care About Product Features OR Sellers,
Buyers Care About Their Own Problems, Solutions, Needs, Wants, Fears & Desires...
Most Buyers Are Looking Either To Solve A Problem / Save Time / Save Money / Pain Relief / Instant Gratification (They donot want to Think/Work/Invest, are NOT building Assets and neither focused on Compounding the Investments)
Advertise The Benefit Of The Benefit To Improve Conversions & Sales.
A Buyer Is A Buyer Is A Buyer
Work equals some Money, but More Work is NOT equal to more money.
More money = Even More Money.
You Need To Have Your OWN Products/Services To Earn A Reliable & Scalable Full-time Income Online!
Money Is IN The List (Keep Building It And Keep Monetizing It)
A Buyer's List Is Atleast 10 Times More Profitable Than A FreebieSeeker's List
Traffic X Conversion = Online Income
Always Focus On Residual & Leveraged Income
(Example: Blogging, List Building, MLM, Membership Sites With Continuity Model Offer Residual & Leveraged Income)
Have A Daily Plan Of Action (DPA) And Stay Focused On Income Producing Activities (IPA)
Information X Action = $uccess
---
About Niranjan Ranade
As a full-time Affiliate Marketer, I recommend products & services that help "Online Business Opportunity Seekers" build real and growing income :)